Home Inspection Miami Dade Hialeah Broward County FL / Inspections.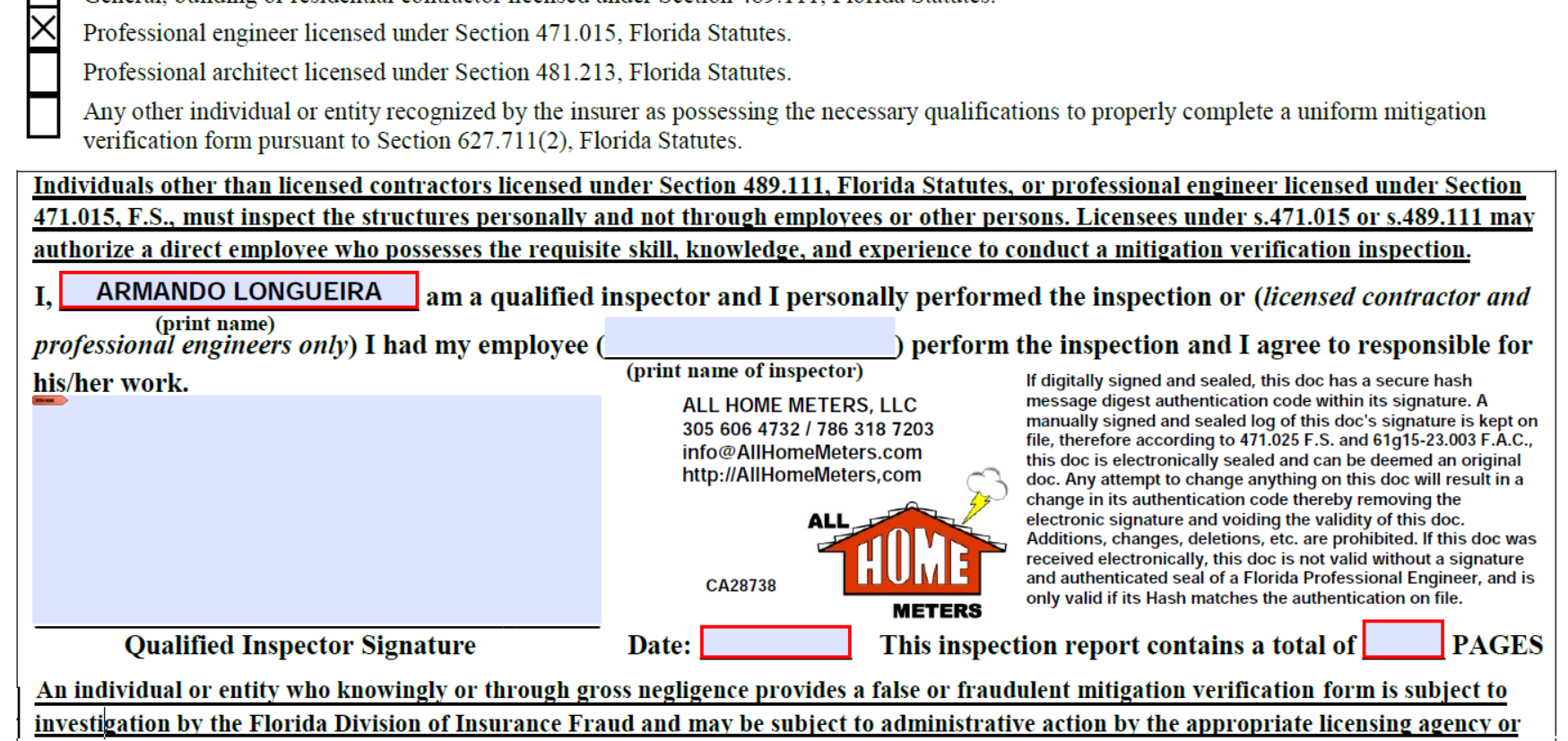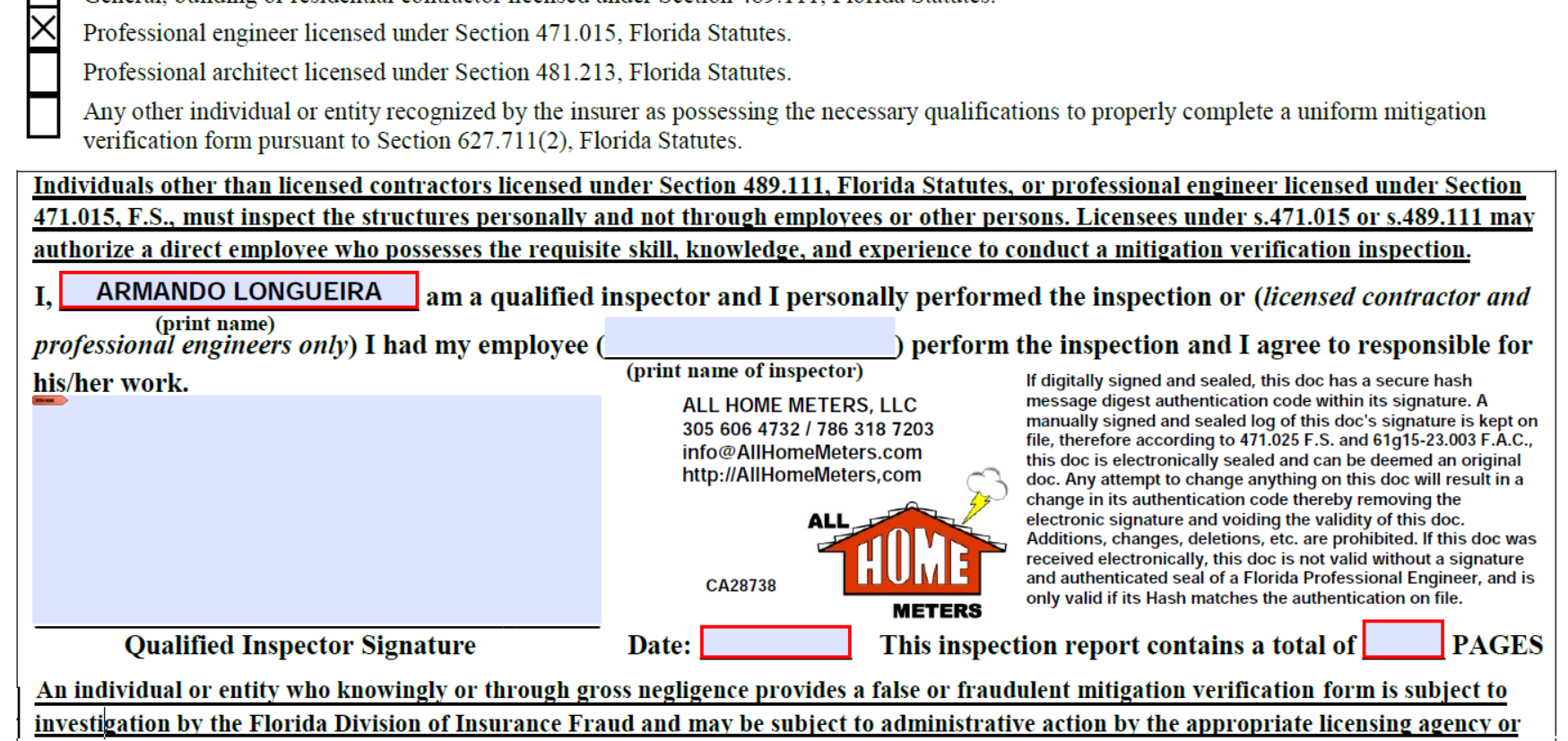 sale
Home Inspection Miami Dade Hialeah Broward County FL / Inspections.
Price is only for a Single Family Property, townhouse or a condo unit (2,000 square feet or less).
For multifamily properties, additional fees apply.
RE-INSPECTION FEE is minimum $90. Initial inspections and reports are only valid for six (6) months.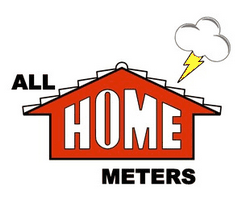 Home Inspections by Engineers.
Agreement Home Inspection.
The inspection report is the exclusive property of this inspection company and the client(s) listed in the report title.
Use of this report by any unauthorized persons is prohibited.


GENERAL AGREEMENT


THIS CONTRACT LIMITS OUR LIABILITY; PLEASE READ CAREFULLY.


If this inspection was performed, the Parties Understood and Agreed as follows:

--The inspection will be performed following minimum inspection guidelines for this type of inspection; items NOT directly specified in this report were not inspected and are out of the scope.
--Report is the exclusive property of this inspection company and the client(s) listed in the report title.
--Use of the report by any unauthorized persons is prohibited.
--Client agrees not to disclose any part of the inspection report to any other person unless required as part of the actual purpose of the inspection.
--This inspection is ONLY limited to readily visible defects.
--The inspection is NOT intended to be technically exhaustive.
--This inspection does NOT include any destructing test or dismantling.
--The Inspector will NOT inspect for any deficiency on elements or areas, which are not exposed to view, are concealed, are inaccessible, or otherwise difficult to inspect and cannot be visually examined.
--The Inspector is NOT acting or representing himself/herself as a licensed structural engineer, electrical engineer, mechanical engineer, termite inspector, sewer inspector, mold inspector, a qualified contractor or an expert in any craft or trade.
--The inspection is NOT considered to be a guarantee, home warranty or insurance policy of the future life or failure of the items inspected, expressed or implied.
--No party must rely totally upon this report as a warrant that the property complies with all the Zoning and Building codes.
--Cost estimates (if any) to repair, legalize or replace any of the inspected items are provided (when stated) ONLY as informative and CANNOT be considered as final costs, qualified contractors must review the report, search for plans, evaluate issues and give a better estimate.
--Total costs (if any) might be much higher if stated in the report.
--Client, Buyer, Seller, qualified contractors and interested parties must search for plans, permits, inspections, etc. and evaluate all issues to have a final estimate taking in consideration potential additional cost related with latent defects, issues out of the scope of this inspection or changes to the property following the date of this inspection.
--Home Owner Association or Property Management might be responsible for certain costs.
--Property might need to comply with other requirements including life-safety enforcement.
--Inspections performed on occupied properties have very limited visibility and evaluation.
--Researches to find construction permits, construction inspections, open permits, open violation cases, citations, liens, resolutions, etc. are NOT thorough investigations.
--Inspectors do NOT warrant or imply that the information obtained through public or governmental records such as building permits, inspections, citations, lien, variances, zoning classification, property age and size, bathrooms and bedrooms, improvements, resolutions, administrative adjustments, etc. is accurate.
--Client might need to contact Zoning Hearings for a non-use variance if property does not meet setbacks.
--Site plan, engineering plan or boundary survey is out of the scope of this report.
--Corrections and/or repairs on structures MUST be done in compliance with all laws, rules, standards, policies, regulations and codes of Miami Dade County, Municipalities and State of Florida.
--This inspection report is only valid at the time of the inspection.
--The inspection/report depicted here is NOT covered by professional liability insurance.
--It is expressly understood and agreed to that liability for damages resulting directly from any errors and omissions in the services provided in connection with this report shall be limited ONLY to the fees paid for the inspection and preparation of report: Any other charge to cover third party fees cannot be recovered.
--This liability limitation is binding on client and client's spouses, heirs, principals, assigns, and anyone else who may otherwise claim through client.
--This limitation of liability applies to anyone who is damaged or has to pay expenses of any kind because of mistakes or omissions in this inspection and report.
--The liability of the inspectors, agents and employees from and against any and all claims, losses, expenses, liabilities, suits, damages and injury arising out of or relating to the performance of services is also limited to the fees paid.
--Client acknowledges and agrees that in connection with this inspection, Inspector might retain the services of subcontractors or independent contractors unrelated to the Inspector and the same limitations of liability apply.
--This Contract will be governed by the laws of the State of Florida.
--The Client agreed to hold the Inspector harmless for any and all claims related to conditions that are altered or repaired without said notice, inspection or informed after the reasonable time for prompt notification.
--Client assumes the risk of all losses greater than the fee paid for the inspection.
--Any recovery contemplated under the agreement shall be subject to prompt notification of any defect in the performance of any of the inspector's duties.
--The Client shall provide reasonable notice, notify in writing and permit an inspection of the conditions which gave rise to the complaint.
--Reasonable time to provide a notice is limited to seven (7) days from the date of the inspection; failure to notify the Inspector in the specified time shall constitute a waiver of any and all claims for said failure to accurately report the condition in question.
--Client agrees to immediately accept a refund of the fee as full settlement of any and all claims which may ever arise from this inspection.
--All suits or actions arising out of this Contract shall be brought in Miami-Dade County, Florida.
--Client has agreed that if a court of competent jurisdiction determines and declares that any portion of this Contract is void, voidable, or unenforceable, the remaining provisions and portions shall remain in full force and effect.
TO THE BEST OF OUR KNOWLEDGE, ABILITY, BELIEF AND PROFESSIONAL JUDGMENT, OUR REPORTS REPRESENT AN ACCURATE APPRAISAL OF THE PRESENT CONDITION OF THE BUILDING BASED UPON CAREFUL EVALUATION OF OBSERVED CONDITIONS, TO THE EXTENT REASONABLE POSSIBLE.

Person/Institution (Property Owner or its agents) ordering the inspection has read, understood and agreed with this general agreement.

THANKS


All Home Meters, LLC
305 606 4732 Office
786 318 7203 Mobile (Armando Longueira, P.E.)
info@AllHomeMeters.com
https://allhomemeters.com